An Afternoon with Joy Reid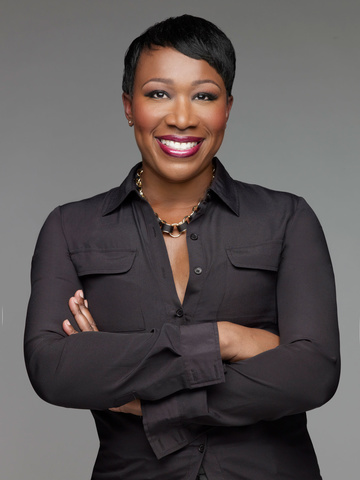 Joy Reid
Date: Sunday, February 19, 2:00 p.m.
Location: Hadley Stage, Hancher Auditorium
Support provided by the Cassandra S. Foens M.D., F.A.C.R. and F. Wendell Miller Funds
Sponsors: Delta Sigma Theta Sorority
Free tickets (limit two) will be available from the Hancher Box Office beginning Friday, Jan. 27, at 10 a.m. Available in person, by phone, or online.
A collaboration with Hancher
Joy-Ann Reid is a political analyst at MSNBC and host of "The ReidOut" She is the author of three books: Fracture: Barack Obama, the Clintons and the Racial Divide, We Are the Change We Seek: The Speeches of Barack Obama, which she co-edited with Washington Post columnist E.J. Dionne, and her latest book: The Man Who Sold America: Trump and the Unraveling of the American Story -- published in the summer of 2019, which spent four weeks on the New York Times best-sellers list. Reid also co-hosts a podcast: Reid This-Reid That with veteran TV journalist Jacque Reid. She has worked in local and national TV news, as a talk radio producer and co-host, and as a press secretary during two presidential campaigns, including for Barack Obama's campaign in Florida in 2008. Her columns have appeared in multiple outlets including The New York Times, The Guardian, The Miami Herald, New York Magazine, and The Daily Beast.
Reid graduated from Harvard University in 1991 and was a 2003 Knight Center for Advanced Journalism fellow. She has received media awards from The Newswoman's Club of New York for the Front Page Award for Lifetime Achievement, Women's Media Center, the National Action Network and the National Association of Black Journalists, and her work has been nominated for an Emmy Award, a GLAAD Media Award, and two NAACP Image Awards.