Rural Roots To NBA Hoops - Nick Nurse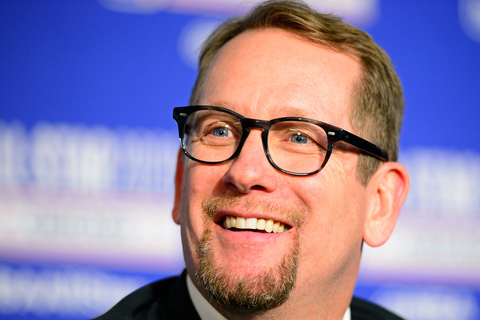 Date: April 25, 2021, 2 p.m.
Location: Online
In partnership with: University of Northern Iowa
Moderated by Coach Lisa Bluder
Nick Nurse is currently the head coach for NBA champion Toronto Raptors and the Canadian Senior Men's National team. During his 30+ years of coaching experience, Nurse has earned numerous championships around the world at the professional level and a reputation as one of the most innovative coaches.
Nurse was named the ninth head coach in Raptors history in June 2018 following five seasons as an assistant. In his first year at the helm, he guided the Raptors to 58 regular-season victories and the franchise's first NBA Championship title. He became the ninth head coach in NBA history to earn a title in his first season. Nurse has been named NBA Eastern Conference Coach of the Month three times (January 2020, October/November 2019 and October/November 2018) earned honor of coaching Team Giannis at the 2020 NBA All-Star Game in Chicago and is this season 2019-2020 Coach of the Year.
Prior to the NBA, Nurse had a successful run as a head coach in the NBA G League, where he was the only coach to lead two different teams (Iowa Energy and Rio Grande Valley Vipers) to the league championships. He was named head coach of the NBA G League All-Stars three times and was named the 2010-11 recipient of the Dennis Johnson Coach of the Year award.
Nurse coached in Europe for 11 years beginning in 1996, winning nine championships and two Coach of the Year awards while earning six All-Star head coach selections in the British Basketball League. During that time, he also gained coaching experience in Italy, Belgium and the USBL.
A graduate of the University of Northern Iowa, Nurse began his coaching career at the age of 23 when he became the head coach of Grand View College. He was also an assistant coach at the University of South Dakota before heading overseas.
He is a native of Carroll, Iowa. He is married to Roberta and has three sons, Noah, Leo and Rocky.
---
Moderated by Coach Lisa Bluder
Lisa Bluder, the all-time winningest coach in program history, completed her 21st year as head women's basketball coach at the University of Iowa and her 37th year overall. Under her direction, the Hawkeyes have advanced to 19 postseason appearances (15 NCAA and four WNIT) in 21 seasons, including NCAA Tournament berths in 11 of the last 13 seasons. Iowa advanced to the postseason in 13 consecutive seasons (11 NCAA and two WNIT) when one was held.