Ta-Nehisi Coates | Being Black at Iowa - A Deeper Black: Race in America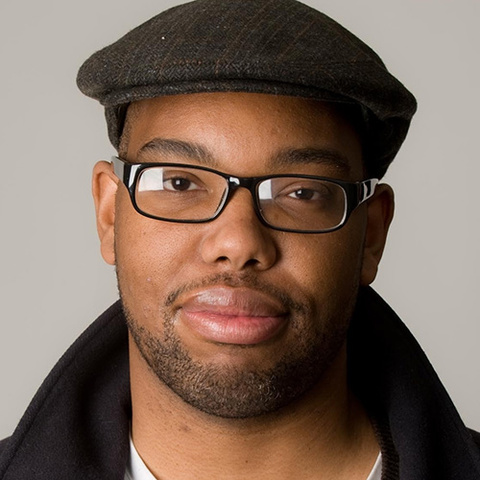 Date: February 25, 2015, 7:30pm
Location: The Englert Theatre
On Wednesday, February 25, 2015 at 7:30PM at The Englert Theatre the University of Iowa will present "A Deeper Black: Race in America", a lecture by Ta-Nehisi Coates, a national correspondent with The Atlantic and author of The Beautiful Struggle. At the conclusion of the lecture, there will be a community conversation.
This event is free and open to the public -- doors open at 7pm. First come, first seated.
More about Ta-Nehisi Coates
Ta-Nehisi Coates is one of the most original and perceptive voices in black America—and one of our best writers, period. With rich emotional depth and a sonar sense of how pop culture, politics, and history shape discussions of diversity, Coates is "the young James Joyce of the hip hop generation" (Walter Mosley). His Atlantic cover story on slavery and race, "The Case for Reparations," is one of the most talked-about pieces of nonfiction in recent memory.
An Atlantic National Correspondent, Ta-Nehisi Coates has penned many influential articles. One of the most famous is "This is How We Lost to the White Man," a searingly honest look at the generational and ideological rifts in the black community; its title is a quote by Bill Cosby. Last year, Coates's lively Atlantic blog—a lesson in how to thoroughly engage a community of readers—was named by Time as one of the 25 Best in the World.
Ta-Nehisi Coates' critically hailed debut, The Beautiful Struggle, is a tough and touching memoir of growing up in Baltimore during the age of crack. It's also a vivid portrait of his father, a former Vietnam Vet and Black Panther who started his own underground black press, had seven children with four women, and dedicated his life to carrying his sons across the shoals of inner city adolescence. It's already a stone cold classic. Coates is currently writing his first novel, about an interracial family in pre-Civil War Virginia.  Coates is a former writer for The Village Voice, and a contributor to Time, O, and The New York Times Magazine. In 2012, he was awarded the Hillman Prize for Opinion and Analysis Journalism. Judge Hendrik Hertzberg, of The New Yorker, wrote, "Coates is one of the most elegant and sharp observers of race in America. He is an upholder of universal values, a brave and compassionate writer who challenges his readers to transcend narrow self-definitions and focus on shared humanity." 
Coates is the Journalist in Residence at the School of Journalism at CUNY. He was previously the Martin Luther King Visiting Associate Professor at MIT.