From The Oasis Falafel Kitchen To Your Home - Oasis Co-owners: Naftly Stramer And Ofer Sivan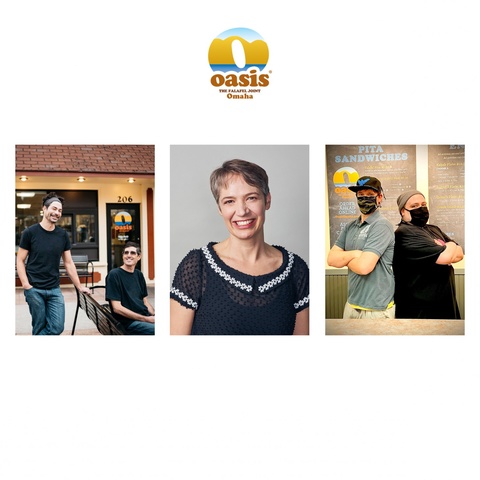 Featuring UI grads-turned-expert chefs: Mike Osler and Victoria Rich
Hosted by: Charity Nebbe, host of "Talk of Iowa" on Iowa Public Radio and "Iowa Ingredient" on Iowa PBS
Date: March 30, 2021, 7:00pm
Location: Online
Cook Along and Learn the Secrets of Mediterranean Flavors Featuring UI grads-turned-expert chefs: Victoria Rich & Mike Osler and Oasis Co-owners: Naftly Stramer and Ofer Sivan.
View the complete cooking demonstration from this event:
Hello! Meet Naftaly Stramer and Ofer Sivan, co-owners of Oasis Falafel of Iowa City and part owners of Oasis Falafel of Omaha. Naftaly was born in Israel and is a former High Tech Computer Engineer / Executive (1981 to 2004). He relocated from Israel to Boulder, Colorado in 1989, then to Iowa City in 1994.
Ofer was born in Israel and moved to Iowa City with his family when he was two years old. He graduated from the University of Iowa in 2003 as an Electrical Engineer, but his first "real job" was co-owner of Oasis Falafel.
In the early 2000's, Naftaly was in-between jobs, and Ofer was "before a job" when they met in downtown Iowa City. They were craving the authentic Mediterranean food they grew up eating but couldn't find locally. Using original recipes from their families, they created falafel and hummus which they sold from a food cart at the Iowa City Arts and Jazz festival using the University of Iowa Hillel kitchen as a base.
Oasis Falafel opened at 206 N. Linn Street in the fall of 2004 and was a welcome addition to the Downtown Iowa City Northside neighborhood, and they have been thriving there ever since.
Within a few years, customers wanted to know where they could buy their amazing hummus outside of the restaurant. They started asking local retailers to carry it. This began to pave the way for the now-famous Hummus to move onto shelves at NewPioneer Coop, U of I dining halls, mom and pop grocery stores, and other local shops and cafes. Eventually, larger retailers such as HyVee, Fareway, Natural Grocers, and others followed. Oasis Hummus began to pop up across Iowa and the Midwest. What makes the story of their journey so special is that it was driven by the customers. They understand Oasis Hummus is ideal for everyone from vegans and vegetarians to protein and superfood lovers, to kids and those with special diets... plus, people who just love delicious food!
In 2016, Ofer and Naftaly met a young couple that would end up adding a new chapter to the Oasis story. Mike and Kellie Osler introduced themselves to the Oasis owners with ambitions of opening their own restaurant in their hometown area of Omaha, NE, but no specific plans yet. After a few brainstorming sessions and meetings over some falafel, pita, and hummus, a great friendship and new business entity was quickly formed. In the summer of 2018, Oasis Falafel of Omaha was established as a partnership between Ofer, Naftaly, Mike and Kellie.
Mike and Kellie are both from Council Bluffs, IA (in the Omaha Metropolitan area), and attended the University of Iowa in the early 2000's. They ended up getting married after college and living in the Iowa City area for over 15 years together. In that time, Mike became involved in the Iowa City culinary scene, working in a number of restaurants spanning over a decade, and gaining vast knowledge from many great local chefs and restaurateurs. Mike and Kellie had the entrepreneurial spirit, and the successful menu of Oasis plus the Osler's creativity and drive was a great match.
Omaha proved a welcome scene for the new Falafel Joint, located in the heart of Downtown in the Orpheum Theater District, and they have enjoyed early praise from the foodie community.
Mike and Kellie were extremely fortunate to find a talented and hard-working chef who was ready to take on the task of opening a new restaurant with them. Victoria Rich has been with the Omaha team since they opened in September 2018. She's been cooking up grub in the Omaha food scene for nearly 12 years, and is now General Manager as well as Chef, creating new and exciting dishes along with Chef Mike, adding even more flavors to Oasis's already reputable cuisine.
We are so happy to be hosting this demonstration with the Lecture Committee. Thanks for the opportunity! We look forward to cooking with you.